Emporium transcends traditional classifications, beyond simply a "property development" or "hotel" to create a class of its own. Emporium is a pillar of pioneering vision. It is a master class in mixed use precincts, an exhibition in elevating amenity into an art form, and a showcase of making a place into an experience.
Emporium is an evolution. While it now stands in South Bank as part of the $600-million-dollar Southpoint precinct as an icon of contemporary construction and design, its inception has been decades in the making.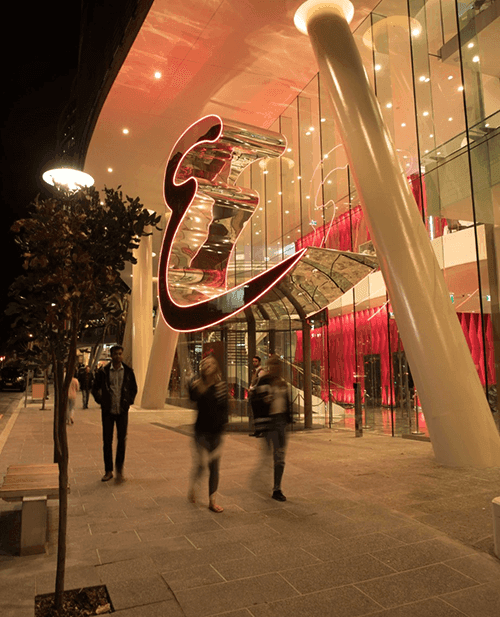 The Emporium story began in Brisbane's Fortitude Valley in the early 2000s with architect/designer development duo Anthony and Francine John. The visionaries behind The Anthony John Group undertook the first urban renewal of its kind in Brisbane at the time, bringing together residential, commercial, retail and a hotel in one unique, vibrant precinct. And just as its namesake Emporium precinct was without equal, Emporium Hotel Fortitude Valley was too a leader in its class.
With Anthony and Fran's constant desire to push the limits of expectation, their ability to be ahead of shifting trends and their hallmark design-driven approach to development, they launched the inimitable Emporium Hotel South Bank in October 2018. Billed as "the last piece of South Bank" it was certainly a case of saving the best to last. South Bank's first 5-star hotel set new standards for style, comfort and service, with the new Emporium taking the mantle from its predecessor as 'Australia's Leading Boutique Hotel' at the 2019 World Travel Awards. It also carved its own niche by combining the 143 luxury hotel suites with the 220 fully serviced Emporium Residences, taking the honours as 'Australia's Leading Hotel Residences' in 2018 and 2019. This rare integration of hotel and residences - along with the impressive line up of premium bars, dining and events, including the iconic Terrace rooftop – are truly defining characteristics of the Emporium.
In the year that was 2020 Emporium Hotels, in partnership with Training Evolution introduced the Emporium Academy, a 12 month program commencing February 2021, to ease the pressure of leaving high school and preparing 15 year 12 graduates for a career in hospitality. Students will able to study and learn offsite at Training Evolution's Milton Campus and return to our exquisite hospitality environment to complete hands on work integrated learning. Upon successful completion of the program, you will earn a nationally recognised qualification, the Diploma of Hospitality Management. The best of both worlds come together conveniently to provide students the best possible learning experience.
While Emporium Hotel South Bank has quickly gained instant icon status, its core commitment to innovation and exceeding expectations will continue to leave a lasting legacy. This is only the beginning.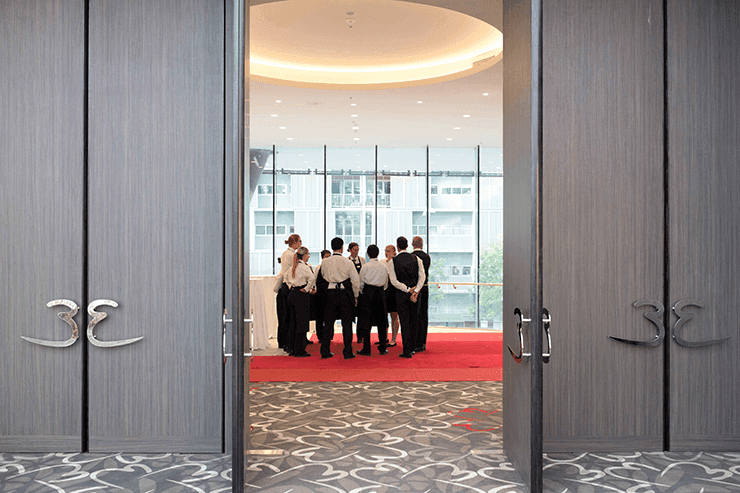 Awards & Honours
Emporium Hotel is committed to 'surprising and delighting' each guest. For us, it is about remaining connected with our guests through the creation of enchanting memories and breath-taking splendour. We are pleased to present the following as testament to our approach.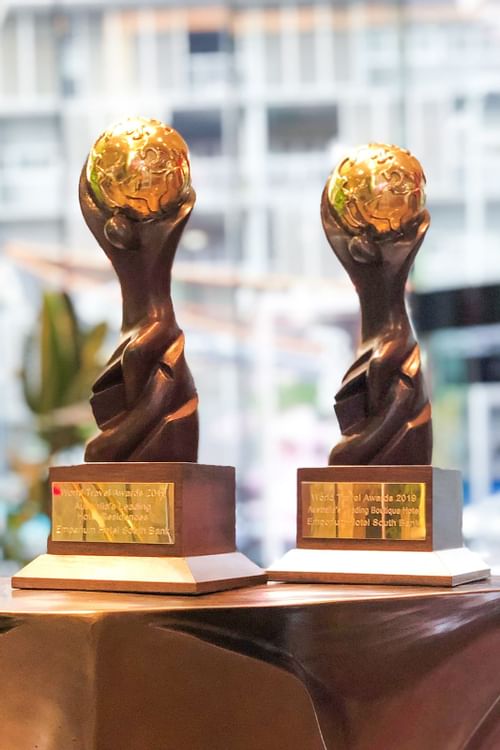 Bronze - 5 Star Luxury Accommodation
Emporium Hotel South Bank
Queensland Tourism Awards
Australia's Leading Boutique Hotel
Emporium Hotel South Bank
World Travel Awards Oceania
Chef Hat (13)
Signature
AGFG Chef Hat Awards
Best Hotel Room Service (Finalist)
Emporium Hotel South Bank
Wotif Uniquely Aussie Awards
Wedding Venue - 5 Star Hotel
Emporium Hotel South Bank
Wedding Industry Awards
3 Glass Rating
Signature
Australia's Wine List of the Year Awards
Top 50 Restaurants
Signature
OpenTable Australia
5 Star Luxury Accommodation Bronze Winner
Emporium Hotel South Bank
Queensland Tourism Awards
Best Hotel View Finalist
Emporium Hotel South Bank
Wotif Uniquely Aussie Awards
Australia's Leading Boutique Hotel
Emporium Hotel South Bank
World Travel Awards Oceania
Australia's Leading Hotel Residences
Emporium Hotel South Bank
World Travel Awards Oceania
Traveller Review Award (9.3/10)
Emporium Hotel South Bank
Booking.com
Chef Hat (13)
Signature
AGFG Chef Hat Awards
3 Glass Winner
Signature
Australia's Wine List of the Year Awards
delicious. 100 (#54)
Signature
delicious. 100
Wine Bar/Brewery & Boutique Spirits Winner
the Terrace
Restaurant & Catering Awards for Excellence
Australia's Leading Boutique Hotel
Emporium Hotel South Bank
World Travel Awards Oceania
Australia's Leading Hotel Residences
Emporium Hotel South Bank
World Travel Awards Oceania
Accommodation Hotel of the Year
Emporium Hotel South Bank
QHA Awards for Excellence
Best Hotel Bar Accommodation Division
the Terrace
QHA Awards for Excellence
Best Restaurant Accommodation
Signature
QHA Awards for Excellence
Chef Hat (13)
Signature
AGFG Chef Hat Awards
3 Glass Winner
Signature
Australia's Wine List of the Year Awards
Australia's Leading Boutique Hotel
Emporium Hotel South Bank
World Travel Awards Oceania
Australia's Leading Hotel Residences
Emporium Hotel South Bank
World Travel Awards Oceania
Travelers' Choice Award for Hotels in Australia
Emporium Hotel South Bank
Tripadvisor Traveler's Choice Awards
The Best Luxury Boutique Hotels in Brisbane, Australia
Emporium Hotel South Bank
Luxury Lifestyle Awards
3 Glass Winner
Signature
Australia's Wine List of the Year Awards
Chef Hat (12)
Signature
AGFG Chef Hat Awards
Australia's Leading Boutique Hotel
Emporium Hotel South Bank
World Travel Awards Asia & Oceania
Australia's Leading Hotel Residences
Emporium Residences South Bank
World Travel Awards Asia & Oceania
Best Boutique Bar Queensland
the Terrace Rooftop Bar
QHA Awards (Queensland Hotels Association)
Wine List Of The Year
Signature
Courier Mail Food Awards
Delicious 100 Restaurant
Signature
Sunday Mail Delicious 100
Australia's Leading Boutique Hotel
Emporium Hotel
World Travel Awards Asia & Oceania
Australia's Leading Hotel Residences
Emporium Residences
World Travel Awards Asia & Oceania